Thực phẩm bổ sung Rainbow Light Men's One Multivitamin 120 Tablets
Thực phẩm chức năng & Viatmin Rainbow Light
Thành phần
Supplement Facts
Serving Size: 1 Tablet
Servings Per Container: 120
Amount Per Serving
%DV
Vitamin A (as beta-carotene)
900 mcg
100%
Vitamin C (ascorbic acid)
45 mg
50%
Vitamin D (as cholecalciferol)
50 mcg
250%
Vitamin E (as d-alpha tocopheryl succinate)
15 mg
100%
Vitamin K (as phytonadione)
120 mcg
100%
Thiamin (as thiamin mononitrate)
20 mg
1667%
Riboflavin (vitamin B2)
20 mg
1538%
Niacin (as niacinamide)
20 mg
125%
Vitamin B6 (as pyridoxine hydrochloride)
20 mg
1176%
Folate (as folic acid)
400 mcg DFE
(240 mcg folic acid)
100%
Vitamin B12 (as methylcobalamin)
10 mcg
417%
Biotin
50 mcg
167%
Pantothenic Acid (as calcium pantothenate)
13 mg
260%
Choline (as choline bitartrate)
55 mg
10%
Calcium (from mineral-rich red algae)
25 mg
2%
Iodine (from inactivated Saccharomyces cerevisiae)
150 mcg
100%
Magnesium (as marine magnesium extract from sea water)
50 mg
12%
Zinc (as zinc citrate)
11 mg
100%
Selenium (as selenomethionine)
55 mcg
100%
Copper (as copper amino acid chelate)
0.9 mg
100%
Manganese (as manganese citrate)
2.3 mg
100%
Chromium (as chromium picolinate)
100 mcg
286%
Molybdenum (as molybdenum amino acid chelate)
45 mcg
100%
Organic Rainbow SuperFoods Blend
Organic spirulina, organic beet (root), organic broccoli (plant), organic kale (leaf), organic spinach (leaf), organic blackberry (fruit), organic blueberry (fruit), organic carrot (root), organic cranberry (fruit)
100 mg
†
Men's Nourishing Blend
Organic chlorella, organic green tea (leaf) extract, lycopene
51 mg
†
Enzyme and Probiotic Blend
Ginger (root) juice extract, amylase (150 DU†), protease (600 HUT†), xylanase (80 XU†), maltase (4 DP†), glucoamylase (0.4 AGU†), hemicellulase (615 HCU†), beta-glucanase (18 BGU†), phytase (0.04 FTU†), cellulase (24 CU†), alpha-galactosidase (4 GaIU†), lipase (22 FIP†), lactase (7 ALU†), invertase (3 SU†), Bacillus coagulans MTCC 5856 (25 million CFU†)
27 mg
†
Inositol
20 mg
†
Citrus (fruit) bioflavonoids
10 mg
†
†Daily Value (DV) not established.
Thành phần khác
Microcrystalline cellulose, coating (hypromellose, medium-chain triglycerides, inulin).Contains milk, soy, and wheat traces from enzyme fermentation media.Contains No: Tree nuts, peanuts, eggs, fish, or shellfish.
Cách dùng
Take one tablet per day, with or between meals.
Hướng dẫn sử dụng có ghi trên nhãn của sản phẩm Rainbow Light Men's One Multivitamin 120 Tablets, quý khách nên đọc kỹ trước khi sử dụng.
Lưu ý khi sử dụng
Keep out of reach of children. Consult your physician prior to using this product if you are taking medication or have a medical condition.
Sản phẩm Rainbow Light Men's One Multivitamin 120 Tablets không phải là thuốc và không có tác dụng thay thế thuốc chữa bệnh, người dùng nên tham khảo ý kiến của Bác sĩ hoặc Chuyên gia dinh dưỡng trước khi sử dụng.
Xem thêm thông tin tại nhà sản xuất Rainbow Light
Thực phẩm chức năng Rainbow Light Men's One Multivitamin 120 Tablets hàng chính hãng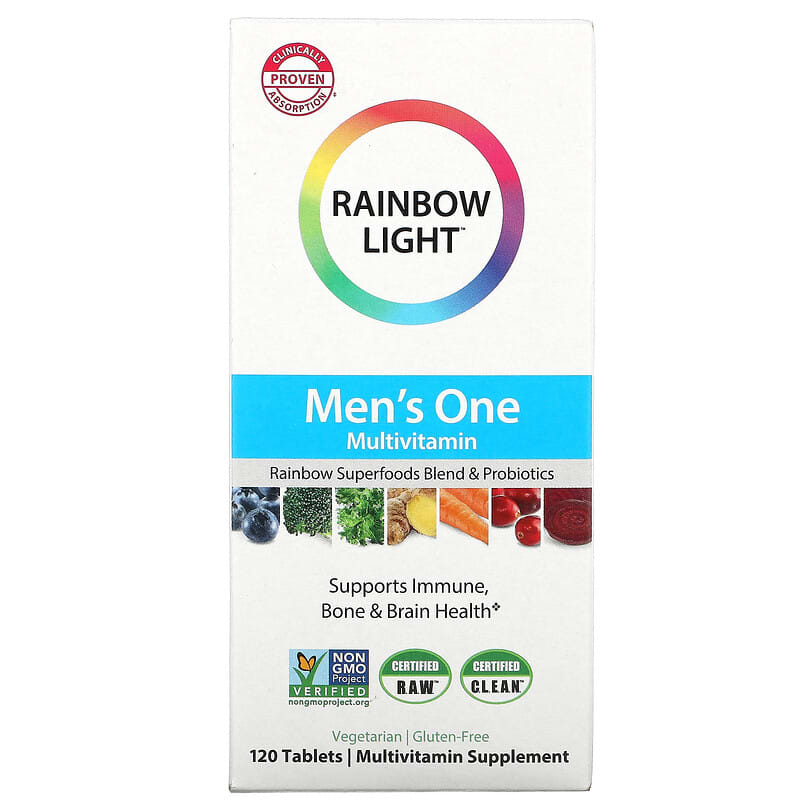 Thực phẩm bổ sung Rainbow Light Men's One Multivitamin 120 Tablets hàng 100% chính hãng nhập khẩu từ USA Mỹ, Mã vạch: 021888217151
Mã SKU: MED107922
Hãng sản xuất: Rainbow Light
Tiền thanh toán: VND
Giá: 1110000
Hiệu lực: 2026-01-01
Tình trạng: InStock